Jul 11
20
I heard the news of these two power houses joining forces today. My first thought was that is great for both Amazon and CBS. Amazon gets to let it's Prime customers enjoy streaming content and CBS gets access to all potential Amazon customers. Now my next question is…
How can a successful sales person or business use this to their advantage? How can you leverage your business with someone else in a non competing industry? Amazon which is trying to become the premier digital deliver service is going to become a thorn in Netflix's side especially with how Netflix has raised prices lately. Word has it that Amazon will also becoming out with a tablet to compete with Apple. Looking at Amzaon's model, get you to buy books, then products, they introduce the best E-Reader in the Kindle, then music……they learn about your choices and send you more of the similar content you like.
They are Brilliant! How easy is it to buy a book for an Amazon Prime member, (full disclosure, I am), once you have everything set up it is one click…then you product arrives in 24 hours. With a whole new stream of customers I believe we will be seeing Amazon, Google, and Apple fighting it out with Facebook to be number one on the Internet.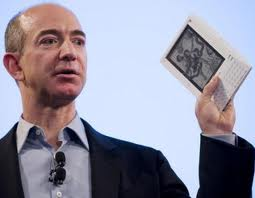 So write down and then write me and let me know where you think you have cross marketing opportunities.