Anyone who has been in sales for any lenghth of time has ran across Zig Zigler and his books, CD's, or DVD's. When I first started down this road I am currently on Zig was one of the first voices I heard. He could tell a story like no one else, and still weave in wisdom without seeming preachy.   Here are a few of my favorite Zig quotes.
"Remember that failure is an event, not a person."
"If you go looking for a friend, you're going to find they're scarce. If you go out to be a friend, you'll find them everywhere."
"Your attitude, not your aptitude, will determine your altitude."
"You will get all you want in life, if you help enough other people get what they want."
"If you can dream it, you can achieve it."
It feels like a lost an old friend, even though we never met in person.
Posted in
Uncategorized
by .
Where to begin. Stephen Covey came to me when I was freshman in college. His book The Seven Habits of Highly Effective People was first published in 1989 and has sold more then 25 million copies world wide. After 25 million, who counts really?  I read it as a freshman a few years after it had been out. I must admit when first reading through the book I had to often stop to look up words, I mean really look it up, with a dictionary. It helped expand my vocabulary but also my mind. It was not written like a most management books of its time, I suppose that's why so many people gravitated to it. Even today, some 23 years after it was first published you can still find it at your book store.
The habits listed below will give you, in the words of Covey "a paradigm shift", how many of us had it look that up? I know I did. The habits range from covering topics like self mastery to interdependence.
Habit 1: Be Proactive
Habit 2: Begin with the End in Mind
Habit 3: Put First Things First
Habit 4: Think Win-Win
Habit 5: Seek First to Understand, Then to be Understood
Habit 6: Synergize
Habit 7: Sharpen the Saw
I think out of all the habits, number 7, Sharpen the Saw, stuck with me the most. Renewal and continuous improvement, that's how I remember habit 7. That is something that as a reader of this blog, I know many of you do. It is what we all must strive to be. Business is replete with companies that have reached the top of their industry only to come crashing down years later. (Blockbuster anyone?) Covey saw things that companies stopped doing, like looking for win/wins and wanted to change that.  Covey looked at 200 years of success literature to come up with his book.
Stephen not only changed the way we worked and managed our careers, but also the way we spoke in business.   How many of us use win win  today when we talk about business? or synergy? His book will also go down as a game changer. Stephen Covey passed away today at the age of 79, complications from a bicycle accident. He will be missed.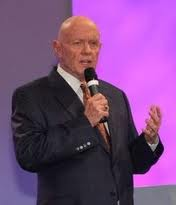 Posted in
Uncategorized
by .