Jan 12
9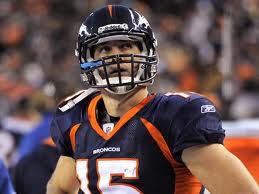 Every sales person has both personal and professional goals that they set for themselves. They also have a set of goals the company wants them to hit. So how does all this relate to Tim Tebow? Most people are aware how well Tim Tebow played this past weekend beating the Steelers,  a game few thought he had the chance to win. But after a successful career as a college quarterback, most " experts" had him being drafted late in the second or third round of the draft and then switching positions. Most thought he could not play quarterback in the NFL.
Tim set his sights a little higher. He ended up being drafted in the first round, and then before the end of his first season, his coach that drafted him was fired. The coach that thought he could play quarterback in the NFL, was gone. Tim never gave up his goals. His goal was to be a NFL quarterback. He set his goals higher then everyone thought they could go.
So what does that mean for you?
Don't set your goal to low
A recent study in the Journal of Consumer Research shows that setting your goals too low will make you less like to achieve them!! You read that right. People who set ambitious goals are more like to achieve them and be happy (duh) them. So when you meet with your manager, boss, or owner and you look at your goals for this year. Push yourself to hit the numbers you really want. That goals for your personal goals as well. Want to make $150,ooo? set that as your goal and work to have your best year ever.
Another interesting thing that the researchers discovered, people who believe that their skills can be improved with practice are equally satisfied with relatively high or low levels of performance. But people who believe that abilities are fixed tend to set higher goals and feel less satisfaction.
Why? If you believe you have more control why would you be happy with a low level of performance? You can change that?
I don't think Tebow will hit his goal of winning a Superbowl this year, but I won't say never for the long term.
So looking at your 2012 goals, are they high enough?